Mocne 1700 pkt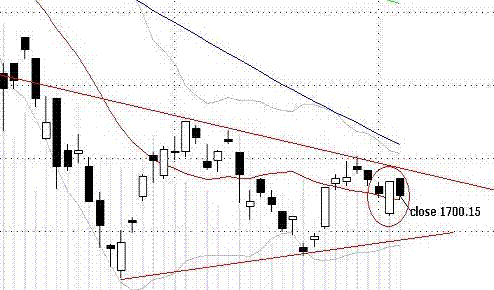 Dzisiejszy dzień pomimo spadku pokazał, że wsparcie na poziomie 1700pkt jest ważne. Przez cały dzień indeks głównych spółek sukcesywnie podążał w kierunku połowy wczorajszej białej świeczki. Na koniec sesji udało się jednak obronić poziom 1700pkt zamykając się równo na jego granicy, oraz nad 15-dniową średnią kroczącą.
Można dostrzec w tym akcent pozytywny, gdyż nie została zanegowana wczorajsza formacja objęcia hossy.
Należy jednak pamiętać, że mamy dość niestabilną sytuację na świecie oraz duże rozchwianie rynku i pomimo iż chciałoby się napisać, że kolejne wzrosty przed nami to jednak chłodny sceptycyzm podpowiada, że test 1600pkt to tylko kwestia czasu.