Jak się zadłużyć i nie stracić
Pożyczki hipoteczne, kredyty konsolidacyjne, kredyty mieszkaniowe, a do tego drożejące waluty i rozchwiany rynek kapitałowy. Nastał czas, w którym niełatwo jest podjąć decyzję przez tych, którzy poszukują dla siebie korzystnej formy finansowania. Liczne oferty banków sprawiają, że jest w czym wybierać i każdy może znaleźć coś dla siebie , ale trzeba to zrobić w sposób przemyślany.
Ze względu na "obfitość" i sporą liczbę oferowanych produktów finansowych dość łatwo jest się pogubić, a co za tym idzie, popełnić błąd i podjąć niewłaściwą decyzję, która przez długie lata będzie rzutować na domowy budżet.
Przy wyborze kredytu, czy pożyczki powinniśmy zwrócić uwagę na ich oprocentowanie. Istotny jest również okres kredytowania, albowiem im dłużej będziemy spłacać tym więcej będziemy musieli oddać bankowi. Kolejną ważną rzeczą jest waluta, w której się zadłużymy. W chwili obecnej możemy wybrać:
-CHF (frank szwajcarski)
-USD ( dolar amerykański)
-EUR (euro)
-PLN (złotówka)
Wbrew pozorom wybór waluty nie jest wcale taki łatwy jakby sie to na początku wydawało. Przy tak zmiennym rynku walutowym jej zły wybór może przełożyć się na wzrost comisięcznych rat, co w konsekwencji odczujemy na naszym portfelu. Dlatego warto jest się zadłużyać w takiej walucie, która osiągnęła lokalny szczyt swego kursu bądź też utrzymuje się na wysokim poziomie, a rokowania i prognozy dla niej przewidują jej spadek w przyszłości.
Jeszcze nie tak dawno bardzo popularny i dostępny (CHF), dziś spędza sen z powiek tym, którzy wzieli kredyty i pożyczki w tej walucie. W niespełna pół roku kurs franka szwajcarskiego wzrósł z ok 2zł do 2.80zł w chwili obecnej (wg.NBP).
wykres CHF/PLN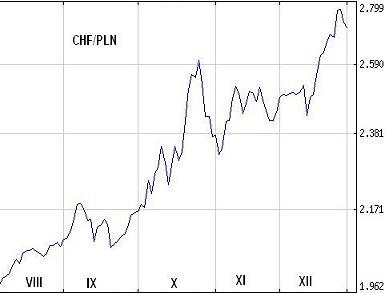 Dlatego tak ważnym czynnikiem jet odpowiednie wybranie waluty, w której zamierzamy się zadłużyć gdyż zmiana jej kursu wpływać będzie na wartość całego zadłużenia, a także na wielkość comiesięcznych rat. Pamiętać przy tym należy, że nawet ewentualne przewalutowanie kredytu jest operacją dość kosztowną z uwagi na wysokie prowizje banków.
zobacz też:
Porównanie pożyczek hipotecznych
Porównanie kredytów mieszkaniowych