Rynek kolejny raz "powiedział" sprawdzam i zweryfikował kto miał rację, a kto się mylił. Inwestorzy, którzy kilka miesięcy temu zakupili akcje mogą teraz spokojnie powiedzieć, że chwycili byka za rogi i chyba słusznie. Od trwającej blisko dwa lata bessy obserwowane odbicie na większości indeksów było najmocniejsze , najdłuższe i dało sowitą nagrodę w postaci kilkudziesięcio-procentowego wzrostu.

W czasach kiedy na rynku lała się krew, banki walczyły o depozyty, ludzie umarzali jednostki w funduszach inwestycyjnych, a euro
dobijało do historycznego szczytu, zaprawieni i doświadczeni w boju inwestorzy kupowali akcje. Z zaciśniętymi zębami i spoconymi dłońmi składali zlecenia kupna kiedy większosć to odradzała. Jednak kolejny raz sprawdziło się , że najlepszym momentem na kupowanie jest właśnie moment, w którym leje się krew, a pesymizm i strach jest wszechobecny.
Obserwując wykresy można zauważyć, że kapitał wpłynął na rynki i to nie tylko na te spekulacyjne. Nawet indeks małych spółek został zauważony i doceniony, co przełożyło się na wzrost sWIG80 o ponad 50%. Natomiast wiele spółek dało stopę zwrotu przekraczającą często 100%. Tak mocne wzrosty doprowadziły również do przebicia górnego ograniczenia długoterminowego trendu spadkowego i spowodowały że indeks sWIG80doszedł do poziomu prawie 10 000pkt.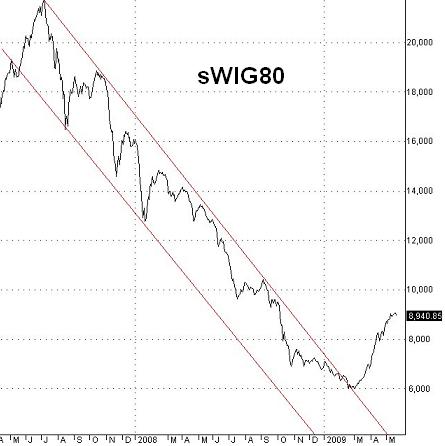 Dość ciekawa sytuacja pojawiła się na szerokim indeksie WIG. W przeciwieństwie do WIG20 , ten pierwszy przebił opór na 28933pkt i naruszył sednią 45-dniową co może świadczyć o sile i determinacji byków.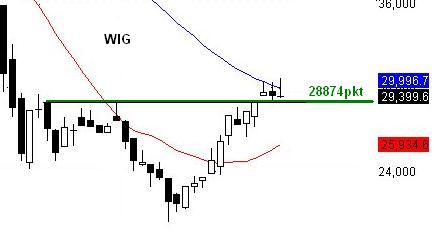 Natomiast Indeks głównych spółek WIG20 zatrzymał się kolejny raz na silnym oporze na poziomie 1920pkt. W tym momencie wielu techników dostrzega na wykresie WIG20 rysujacą się formację RGR co mogłoby zapowiadać korektę, i na dłuższą metę mogłoby być korzystne zarówno dla rynku jak i inwestorów.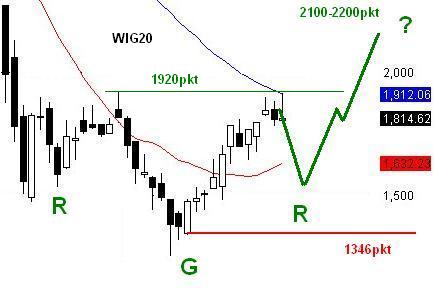 W chwili obecnej należy jednak być ostrożnym w podejmowaniu decyzji inwestycyjnych i bardzo uważnie śledzić informacje napływające z krajowej jak i światowej gospodarki. Nie można również zapominać o planach pobudzenia światowej gospodarki i o miliardach dolarów "wpompowanych" na ten cel.
Niedługo zapewne przekonamy się czy przełoży się to na porawe nastrojów na światowych parkietach.