Remont, samochód, telewizor, komputer - na cokolwiek potrzebne są pieniądze, stosunkowo łatwo można je zdobyć zaciągając kredyt gotówkowy. Analitycy porównywarki finansowej Comperia.pl szukają najlepszego, tłumacząc na co warto zwracać szczególną uwagę.
Kredyt gotówkowy to dość prosty sposób na zdobycie gotówki - z pieniędzy na koncie można cieszyć się nieraz faktycznie już nawet następnego dnia po wizycie w oddziale. Najlepszy kredyt gotówkowy to jednak nie ten, który jest najefektowniej promowany reklamami w mediach, ale ten, który jest najtańszy. Jak taki znaleźć? Eksperci porównywarki finansowej Comperia.pl radzą zestawianie ze sobą ofert konkretnych banków.
Propozycje kredytów gotówkowych banków można konfrontować między sobą dzięki porównywarkom finansowym. Można także przeznaczyć kilka godzin na samodzielne gromadzenie informacji (telefonicznie, e-mailowo, podczas wizyty w placówce). Niejednemu na myśl o kredycie zapala się jednak czerwona lampka "ukryte koszty". Słusznie, chociaż bankom od ponad 2 miesięcy już dużo trudniej przemycać różne kruczki. Ustawa o kredycie konsumenckim wyraźnie bowiem mówi, że banki na prośbę klienta mają obowiązek przekazania mu formularza informacyjnego z wypisanymi wszystkimi atrybutami kredytu. Wygląd formularza (czytelna tabela z sekcjami dot. konkretnych cech produktu) także jest narzucany przez ustawę, dlatego każdy zainteresowany posiadając kilka takich dokumentów z różnych banków, może spokojnie rubryka po rubryce porównywać oferty, i podjąć optymalną decyzję. Formularz jest naprawdę szczegółowy, bo oprócz ewidentnych cech kredytu jak jego oprocentowanie czy wysokość prowizji, musi zawierać także choćby koszty produktów, które trzeba dodatkowo nabyć aby z danej oferty skorzystać (czyli np. konto osobiste, ubezpieczenie), albo skutki zwłoki w płatnościach rat. Kredytobiorca ma także prawo do bezpłatnego otrzymania egzemplarza projektu umowy o kredyt.
Najważniejszym wyznacznikiem atrakcyjności kredytu jest tzw. stopa RRSO, czyli jego oprocentowanie rzeczywiste. To całkowity koszt kredytu wyrażony procentowo w stosunku rocznym do kwoty kredytu. Bierze pod uwagę nie tylko oprocentowanie nominalne, ale koszty przyznania kredytu, m.in. prowizję. Miara ta ma jednak pewną wadę - w stopie oprocentowania rzeczywistego nie są uwzględniane koszty obsługi innych produktów, które trzeba nabyć, aby z danej promocyjnej oferty skorzystać (karta kredytowa, konto, ubezpieczenie).
Warto także pamiętać, aby nie wypełniać w kilku bankach w krótkim odstępie czasowym wniosków kredytowych. Kredytodawcy bowiem wysyłają zapytanie o historię kredytową do Biura Informacji Kredytowej, który z kolei zlicza ilość takich zapytań. Koło się więc zamyka, bo klient który w wielu bankach składa wnioski kredytowe jest traktowany jako mało wiarygodny.
Gdzie po najlepszy kredyt gotówkowy?
Wśród najlepszych kredytów na stosunkowo niewielką kwotę, jaką są 2 tys. zł, króluje oferta Getin Noble Banku. Pożyczając w tym banku rzeczoną kwotę na rok, np. na zakup sprzętu RTV/AGD, co miesiąc oddawać się będzie niecałe 175 zł. Warto jednak mieć na uwadze, że nie każdemu bank przyzna minimalne oprocentowanie, więc nie wszyscy będą mogli liczyć na najatrakcyjniejsze warunki na rynku. Na podium według ekspertów porównywarki finansowej znajdują się także oferty BNP Paribas i ING Banku Śląskiego, na ratę poniżej 180 zł można liczyć jeszcze w Citibanku, Kredyt Banku i Pekao S.A. Do tych banków warto w pierwszej kolejności skierować swoje kroki w poszukiwaniu najlepszego kredytu gotówkowego. A że warto szukać najniższej raty, pokazują liczby. Choć może rata niższa o 8-13 zł nie robi wielkiego wrażenia, to już wizja oddania bankowi dwukrotnie wyższych odsetek w skali całego kredytu daje do myślenia.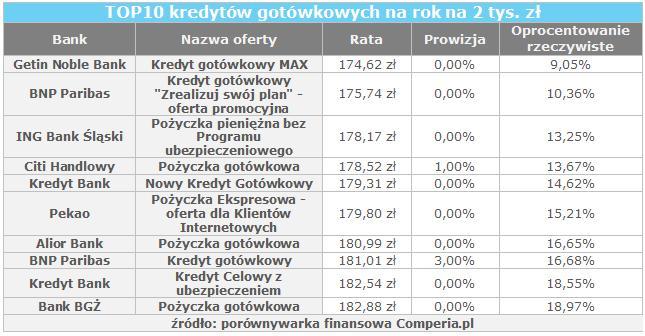 Między innymi na BNP Paribas i ING Bank Śląski można liczyć także w przypadku większych kredytów, np. na remont mieszkania czy samochód używany. Analitycy Comperia.pl przyjęli kwotę kredytu na poziomie 20 tys. zł, oraz 3-letni okres spłaty. W BNP Paribas w ramach promocji nie jest pobierana prowizja za udzielenie kredytu, o ile wnioskujący posiada lub założy rachunek osobisty w Pakiecie L. Z drugiej strony, do każdej raty będzie doliczana także składka ubezpieczeniowa w wysokości 2,99 proc.. Niezależnie jednak od wszystkiego, to jedna z najlepszych ofert na rynku. Atrakcyjne oferty znajdziemy także m.in. w eurobanku, PKO Banku Polskim i Getin Noble Banku.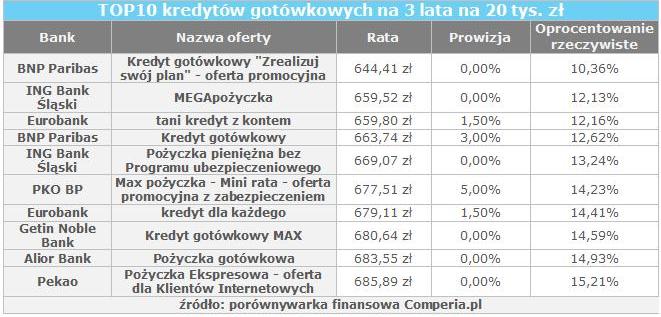 Warto zwrócić uwagę także na ofertę Alior Banku, który w ramach promocji gwarantuje udzielenie pożyczki gotówkowej z ratą mniejszą niż oferują inne banki. Po prostu, jeśli przed skorzystaniem z oferty lub do 2 tygodnie później inny bank zaoferuje klientowi niższą ratę niż ta uzyskana w Alior Banku, Alior Bank tę ofertę przebije. Można zweryfikować to zapewnienie.

autor: Mikołaj Fidziński