Wydawać by się mogło , że bessa z 2008r odeszła w niepamięć i przed inwestorami pojawiła się kolejna szansa na zyski z portfeli akcji. Chęć do odreagowania wcześniejszych spadków była tak mocna i silna , że w przypadku amerykańskiego indeksu Nasdaq doprowadziła do tego , że odrobił on straty z bessy , a nawet osiągnął nowe lokalne szczyty.
Impet z jakim rósł indeks amerykański był tak silny , że od dłuższego czasu nie odnotowano na nim większej korekty. Nawet trudna sytuacja Europy i problemy finansowe Grecji, Hiszpanii czy Irlandii nie przyhamowały popytu jaki pojawił się na amerykańskim rynku akcji.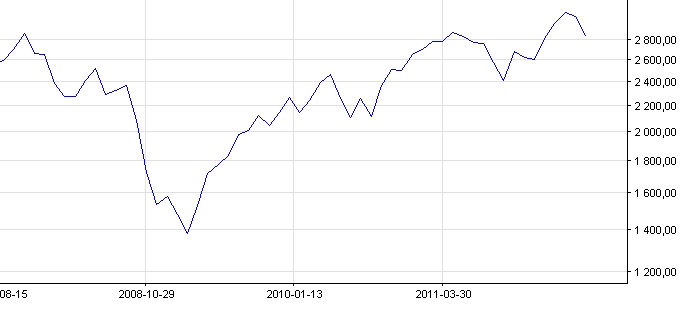 źródło: stooq.pl - Indeks Nasdaq
Ci którzy obserwowali rynek oraz "wyłapali" idealnie dołki po ostatniej bessie i dobrze wybrali spółki do swojego portfela mogli liczyć na duże stopy zwrotu i odrobienie ewentualnych strat po bańce nieruchomości i kredytów hipotecznych
Na europejskich indeksach sytuacja jednak ma się z lekka odmiennie do tej na zachodnich indeksach. O ile Ameryka nie ma problemów z pojawieniem się groźby bankructwa ( jeszcze), to w Europie bankructwo Grecji stało się faktem i pociągnęło całą Europę w spiralę strachu spowodowanego możliwością rozpadu strefy Euro.

źródło: stooq.pl - Indeks Ateński
Ateński indeks w chwili obecnej jest najniżej w historii od 1989r i chyba nikt nie postawi na to , że nie będzie jeszcze niżej , zwłaszcza że zbliża się termin wykupu obligacji przez Grecję , a w jej kasie pustki i cięcia budżetowe.
Tak jak do niedawna indeksy Amerykańskie wyznaczały kierunek i wszystkie indeksy szły jak jeden mąż obok siebie z indeksami zachodnimi, tak od jakiegoś czasu można zaobserwować , że nastąpiła pewna rozbieżność co do kierunku i siły poszczególnych indeksów.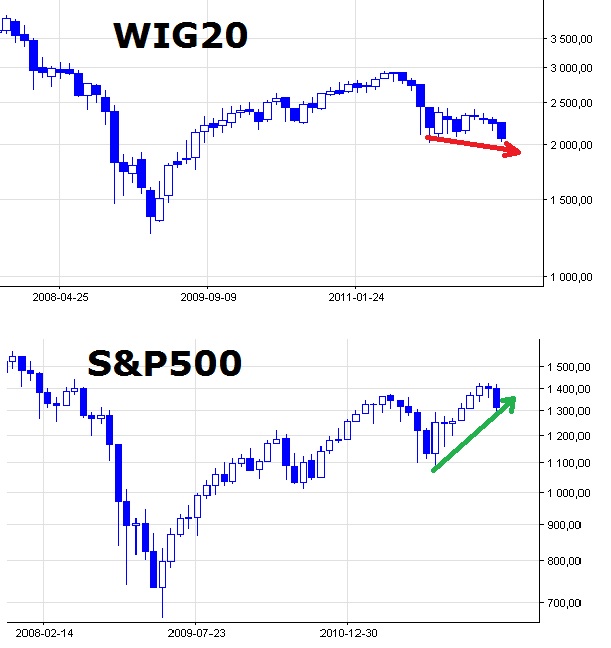 źródło: stooq.pl - Indeksy S&P 500 i WIG20
W przeciwieństwie do silnego indeksu SP500, nasz rodzimy indeks największych spółek WIG20, nie okazuje zbytniej siły, a wręcz odwrotnie obnosi się słabością i niepewną przyszłością co do wzrostów i kolejnej hossy.
Na wykresie doskonale widać rozbieżność obu indeksów i kierunki w jakich podążają. Na pierwszy rzut oka widać , który z nich ma większy optymizm i siłę do wzrostów.
Na dzień dzisiejszy WIG20 zbliża się niebezpiecznie do poziomu 2000pkt i zapewne go przebije ze względu na fakt , że takie poziomy stanowią ważną barierę psychologiczną i tam znajduje się wiele zleceń typu stop i tam może odbyć się większa bitwa niedźwiedzi i byków. Dodatkowym negatywnym czynnikiem jest słabość konia pociągowego WIG 20 ,a mianowicie KGHM, który z blisko 200zł spadł w chwili obecnej do 120zł za jedną akcję.
Wielu analityków uważa , że aby bessa z 2008r została wypełniona niezbędne jest testowanie , a nawet wybicie dołków z 2009r, a te w przypadku indeksu WIG20 znajdują się w okolicach 1300pkt. Zatem nasuwa się pytanie czy znowu pojawi się okazja do kupna akcji spółki KGHM po 20zł ?
Dla tych co lubią teorię spiskowe i wyszukiwanie na wykresie analogii z przeszłości do sytuacji obecnej , proponuje porównanie wykresu SP500 z 2012r do sytuacji jaka miała miejsce na tym wykresie w 1987r. Niektórzy inwestorzy widzą tam podobną sytuację , która czeka nas w nadchodzącej, a ta według analizy powyższej sytuacji nie wygląda kolorowo.
autor: Daniel Sokołowski