Ostatnie tygodnie pokazały, że inwestycje w rynek akcji nie były dobrym rozwiązaniem zwłaszcza dla tych co liczyli na szybki zysk . Rynek niedźwiedzia był tak zdeterminowany, że kolejny raz sprowadził indeks głównych spółek WIG20 w okolice rocznego minimum z 2008r, aby następnie go przebić.
Poziom 1470pkt, który stanowił wsparcie i linię obronną strony popytowej w pewnej chwili stał się oporem. Obecnie obserwowaliśmy ruch powrotny indeksu WIG20 do linii 1470pkt, którą udało się przebić. Smaczku całej sytuacji dodaje osłabienie się złotego w stosunku do głównych walut zagranicznych, co jak na razie nie pomagało stronie kupującej.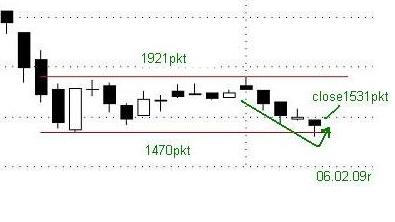 Obecnie ceny na rynku akcji zdają się dyskontować spowolnienie gospodarcze. Jeżeli jego prognozy nie ulegną zmianie możemy oczekiwać, że nastąpi uspokojenie i okres konsolidacji, a następnie zwyżki cen i większe odbicie na rynku.
Dla tych co lubią ryzyko może to stanowić idealny moment do wybierania spółek do swojego portfela, które w przypadku zmiany trendu zapewne przyniosą ponad przeciętną stopę zwrotu.
W dobie kryzysu i zawirowań nieźle radzą sobie fundusze obligacji, które wciąż kuszą wysoką stopą zwrotu jaką osiągają. Jeżeli RPP będzie kontynuowała obniżanie stóp procentowych w kierunku 3-4%,pozwoli to osiągnąć wyższą stopę zwrotu z funduszy obligacji, a ich atrakcyjność jeszcze bardziej wzrośnie.
Stopa zwrotu z Funduszy Obligacji w 2008r.:
| | |
| --- | --- |
| Fundusz | Stopa zwrotu |
| PKO-CS: obligacje długoterminowe | 21,50% |
| Allianz Obligacji | 15,20% |
| SKOK Obligacji | 15,00% |
| BPH Obligacji | 14,90% |
| PKO-CS plus | 11,10% |
Należy jednak pamiętać, że żadna hossa nie trwa wiecznie i w każdej inwestycji pojawia się moment, w którym należy z niej wyjść w odpowiednim momencie.
Na rynkach kapitałowych dzieje się wiele i codziennie tętnią one życiem. Jedyna rzecz na myśl której przechodzą dreszcze to program ratowania światowej gospodarki, a raczej to co się stanie jeżeli.....
Gotówkowa pomoc i wpompowanie miliardów w banki i inne instytucje w celu ich ratowania może spowodować zwiększenie podaży pieniądza. Jak wiemy żaden rząd nie wyciąga jej z rękawa. W takim przypadku niezbędne będzie drukowanie kolejnych banknotów, a także emitowanie kolejnych obligacji, które pojawią się na rynku. W dłuższej perspektywie może się okazać, że efekt jest inny od oczekiwanego, a końcowym wynikiem będzie wzrost inflacji i podaży pieniądza. Dlatego pozostaje tylko trzymać kciuki za sukces i za opanowanie światowego kryzysu.