Czy taki scenariusz wyrysuje nam nadchodząca przyszłość? Na wiele pytań nie ma jednoznacznej i sensownej odpowiedzi. Posiadamy jedynie pewne dane z których możemy z dużym prawdopodobieństwem prognozować kierunek zmian i wydarzeń. Czy będziemy świadkami wciąż rozwijającej się gospodarki, czy pogrążymy się całkowicie w recesji?
W przeciwieństwie do kryzysu w latach 2001-2002, dzisiejsza sytuacja jest poważniejsza, tym bardziej strach, który zagląda inwestorom w oczy jest o wiele większy i mocniejszy.
Okres inwestycji zagranicznych mocno przychamował i zapewne jeszcze zwolni. Taka sytuacja już przedkłada się na stan naszej gospodarki - zamykanie firm, grupowe zwolnienia brak napływającej gotówki i nowych inwestycji sprawia że bezrobocie i zła sytuacja tylko przybiera na rozmiarach. Jeszcze nie tak dawno inwestycje i zagraniczny kapitał przyczyniał się do rozwoju naszej gospodarki, spadało bezrobocie, a na rynku panowała hossa. Niestety w chwili obecnej jesteśmy świadkami sytuacji odwrotnej.
Wielu liczy, że nasz kraj zdoła oprzeć się światowemu kryzysowi zwłaszcza, że według ekonomistów nasze banki nie są zagrożone i nie powinny zmniejszać dostępu do kredytów. Rzeczywistość ma się jednak inaczej do tego jak jest i jak być powinno.
W ślad za innymi instytucjami światowymi także nasz sektor bankowy dąży do zebrania jak największej gotówki z rynku co prawdopodobnie miałoby zmniejszyć ryzyko związane z kryzysem. Od jakiegoś czasu można zaobserwować zmożoną politykę banków dotyczącą ostrej "walki" o depozyty, co jeszcze do niedawna powodowało wzrost oprocentowania lokat pieniężnych.
Wszystko po to aby zebrać jak największą ilosć gotówki z rynku nawet kosztem wsparcia ze strony państwa. Taka sytuacja może świadczyć, że 2009r może być dla nas bardzo cięzki.
Prognozuje się, że wzrost PKB utrzyma się na poziomie ok 2%, co w porównaniu z dotychczasowym tempem rozwoju na poziomie ok 6% może wydać się śmieszne i tym samym działać na wyobraźnie inwestorów w sposób negatywny. Główne źródła kryzysu tkwią jednak za granicą i to właśnie stamtąd powinna przyjsć poprawa .
W chwili obecnej nie pomaga również nasza słaba waluta krajowa, która wciąż osłabia się w stosunku do głównych walut zagranicznych. Może się stać tak, że będziemy świadkami (jeżeli już nimi nie jesteśmy) hossy walutowej.
Szybki i gwałtowny wzrost kursu walut zagranicznych , przebicie ważnych poziomów psychologicznych (CHF -3zł i Euro -4zł) może świadczyć, że przez dłuższy czas nie powrócimy do poziomów z połowy 2008r. Dlatego też może nie warto podejmować zbyt pochopnych decyzji kredytowych będących wynikiem chwilowego impulsu.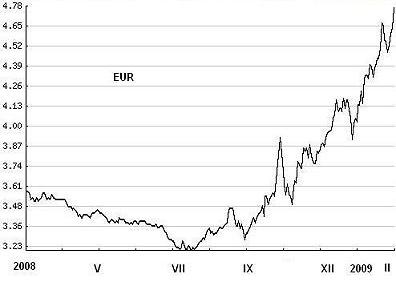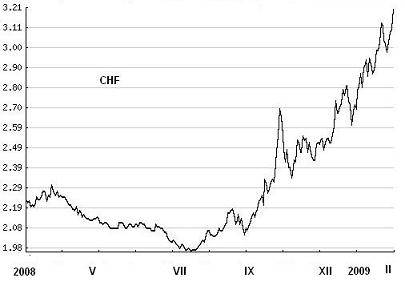 W chwili obecnej mimo wszystko ciężko jest prorokować trwałość zmian zarówno na rynku nieruchomości jak i rynku walutowym.
Może łatwo to pisać, lecz postarajmy się nie popadać w panikę, a wszystkie decyzje podejmujmy na podstawie spokojnej i przemyslanej analizy. Na pocieszenie napisze, że po każdym złym okresie zawsze przychodzi lepszy, który wprowadza gospodarkę na nowy tor zmian i rozwoju.